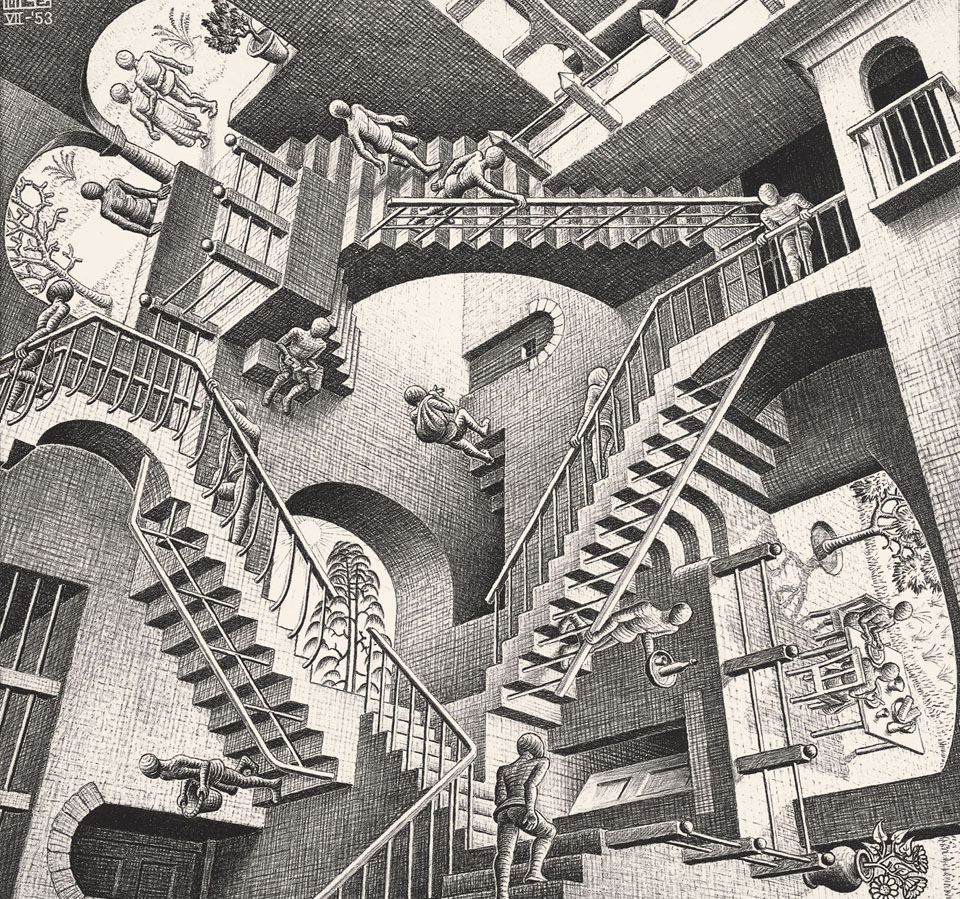 SALONE DEGLI INCANTI, TRIESTE



18 December 2019 – 19 July 2020
A great exhibition dedicated to the extraordinary Dutch artist Maurits Cornelis Escher opening at the Salone degli Incanti in Trieste, from 18 December 2019 to 19 July 2020.
Discovered by the greater public over the last few years, Escher has internationally become one of the most beloved artists, whose exhibitions have broken all records in terms of numbers of visitors. Escher was born in 1898 in The Netherlands where he died in 1972. In 1922 he came to Italy for the first time, a country where he lived and travelled widely for many years, depicting it in several of his works. Throughout his career, this restless, reserved and truly extraordinary artist produced celebrated etchings and lithographs capturing a unique, phantasmagorical, impossible world where art, mathematics, science, physics and design came together.

This anthological exhibition presenting about 200 works including Escher's most representative masterpieces that have made him famous around the world opens in Trieste thanks to a collaboration between the City of Trieste and Arthemisia with Generali Valore Cultura confirming an effective partnership that initiated with the blockbuster exhibition I Love Lego.

Entitled Escher, this exhibition outlines the career of the Dutch genius through his most iconic and recognizable works including Hand with Reflecting Sphere (1935), Bond of Union (1956), Metamorphosis II (1939), Day and Night (1938), and the Emblemata series. Presented for the first time in this Trieste exhibition is also The Days of Creation, a nucleus of six xylography works produced between December 1925 and March 1926 describing the first six days of the Creation of the World.

The exhibition is supported by two exceptional partners: PromoTurismoFVG and Generali Valore Cultura whose shared objective is to make artistic and cultural initiatives accessible to an ever wider public while also promoting the territory.
On the occasion of this exhibition PromoTurismoFVG, with Confindustria Venezia Giulia, Federalberghi Trieste and Associazione Bed and Breakfast FVG, have activated a unique and unprecedented initiative in Italy: to offer a free ticket to the exhibition to those spending at least one night in Trieste, in one of the accommodation facilities that have joined the Gift for Guests project. Its purpose is to promote cultural tourism in the city rewarding visitors with a special gift from the City of Trieste that funds this initiative with the money from the tourist tax (www.discover-trieste.it).

Through Valore Cultura, Generali Italia confirms its role in Trieste as an agent for development, offering initiatives for cultural advancement on the territory. On 22 January the exhibition will be open free of charge to school groups (booking essential), followed by two Racconti dell'arte appointments, one dedicated to secondary school students and to their teachers, and the other open to the general public. These initiatives consist in a modern and engaging narration curated by art critic and curator Sergio Gaddi in which the art display interacts with new media expanding its narration to further explore the exhibition subjects and aspects of the artist' life. The initiative will take place in Palazzo Berlam: the iconic Generali building in Trieste deeply tied to the history of the Company, that has been now reopened to the public after extensive renovation.

From 16 December, Feltrinelli Real Cinema and Wanted Cinema present in cinemas the first film-documentary by Robin Lutz dedicated to the artist entitled Escher – Journey into Infinity.
The partnership between Arthemisia and Wanted Cinema has led to the institution of two special offers: an entry ticket to a cinema in Trieste entitles to a reduction on an Escher exhibition ticket. Vice versa, an exhibition ticket entitles to a reduction on the ticket to see the film.
Furthermore, by presenting a ticket to any ongoing Arthemisia exhibition in any cinema across Italy projecting the film, viewers are entitled to a special reduction on the film-documentary ticket.

Promoted and organised by the City of Trieste, Department for Culture and Gruppo Arthemisia with Generali Valore Cultura, in collaboration with M. C. Escher Foundation, this exhibition is curated by Mark Veldhuysen – CEO at M.C. Escher Company – and Federico Giudiceandrea – one of the world's leading Escher experts – and also supported by PromoTurismoFVG, with special partner Ricola and Sky Arte media coverage.

Opening hours
From Monday to Sunday 9.30 – 19.30
(last entrance at 18.30)
Tickets
Full price € 14,00 Audioguide included
Reduced € 12,00 Audioguide included

Info and booking
T. + 39 040 982831
www.triestecultura.it
Information about Escher – Journey into Infinity
info@wantedcinema.eu
www.wantedcinema.eu
Official hashtag
#EscherTrieste