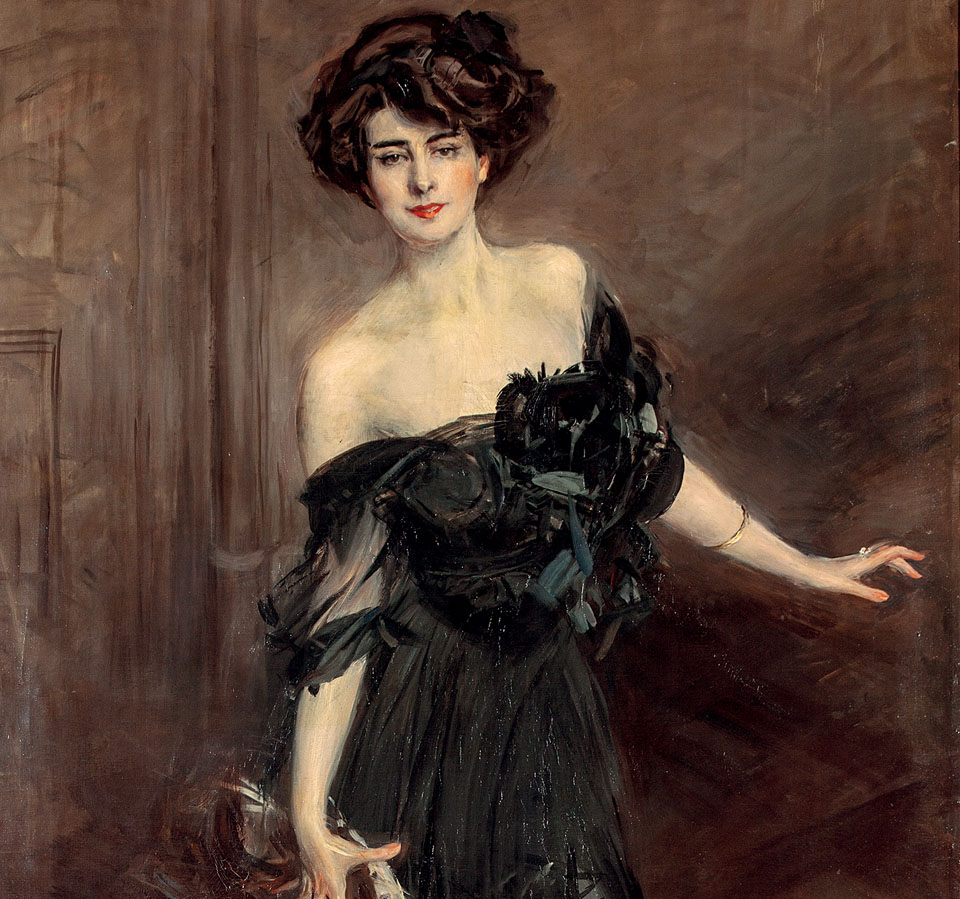 TURIN, REGGIA DI VENARIA

29 July 2017 – 28 January 2018


In the year of the tenth anniversary of its opening, the magnificent venue of the Reggia di Venaria will host a major Giovanni Boldini exhibition from 29 July 2017 to 28 January 2018, with more than 115 works.
Alluring women, sumptuous, swishing gowns, salons, and la Belle Époque make up the passionate world of Boldini, the brilliant painter who was uniquely able to capture the rarified atmosphere of that extraordinary period. Literature, fashion, music, luxury, art and bistrot all intertwined in the sensual rhythm of the can can and generated an extraordinary social and civic revitalization.
This comprehensive Giovanni Boldini exhibition was constructed on the basis of both chronological and thematic narratives; a large selection of works traces the artist's activity over the years but is divided into four sections representing four underlying themes in order to convey the evolution of the master's expressiove language. Regardless, throughout his career, Boldini created works that express and exalt female beauty, revealing the intimate, mysterious soul of aristocratic women of the period.
On display in the Rooms of the Arts of the Reggia di Venaria, the exhibition was sponsored by the City of Turin, produced and organized by La Venaria Reale along with Arthemisia, and curated by Tiziano Panconi and Sergio Gaddi.

Not limited to the international experience of Boldini, who quickly abandoned the Italian avantgarde Macchiaioli, the exhibition also features 26 works by his contemporaries Cristiano Banti, Vittorio Matteo Corcos, Giuseppe De Nittis, Antonio de La Gandara, Paul-César Helleu, Telemaco Signorini, Ettore Tito, and Federico Zandomeneghi for comparison and context.

Among the many renowned paintings on exhibit are Boldini's The Red Curtain (1904), Woman Reading (1875), Lady in White with Gloves and Fan (1889), Dark-Haired Lady in an Evening Gown (c. 1892), Mademoiselle De Nemidoff (1908) and the guest of honour, the masterpiece emblematic of the entire Belle Époque, the large-scale Portrait of Donna Franca Florio, painted between 1901 and 1924. These and the many other works are on loan from major international museums, including Musée des Beaux-Arts of Tours, Galleria Civica d'Arte Moderna e Contemporanea di Torino, Raccolte Frugone – Villa Grimaldi di Fassio of Genova, Collezioni Artistiche. Banca Carige, Galleria d'arte moderna Empedocle Restivo of Palermo, Museo nazionale di Capodimonte, and from several prestigious private collections that are rarely available to the public.
Sixty different loaning institutions were skillfully coordinated over four years of preparatory work by Tiziano Panconi, author of the 2002 catalogue on Boldini, and Sergio Gaddi.

Generali Italia is a sponsor and AtaHotels the Hotel partner.
The event is recommended by Sky Arte HD, and the catalogue is published by Arthemisia/Skira.
Opening dates
29 July 2017 – 28 January 2018
Tickets
Full € 14,00
Reduced € 12,00
Information and booking
T. +39 011 4992333
Opening Times
to 27 August:
· Monday: closed
· Tuesday, Wednesday and Thursday: from 10 to 17
· Friday and Saturday: from 10 to 19
· Sunday and holidays: from 10 to 19.30
· Evening openings: Friday and Saturday: from 19 to 23.30

from 29 August to 8 October:
· Monday: closed
· Tuesday to Friday: from 10 to 18
· Saturday, Sunday and holidays: from 10 to 19.30
from 10 October:
. Monday: closed
. Tuesday to Friday: from 9 to 17
. Saturday, Sunday and holidays: from 9 to 19.30

Ticket offices close 1 hour before the times indicated