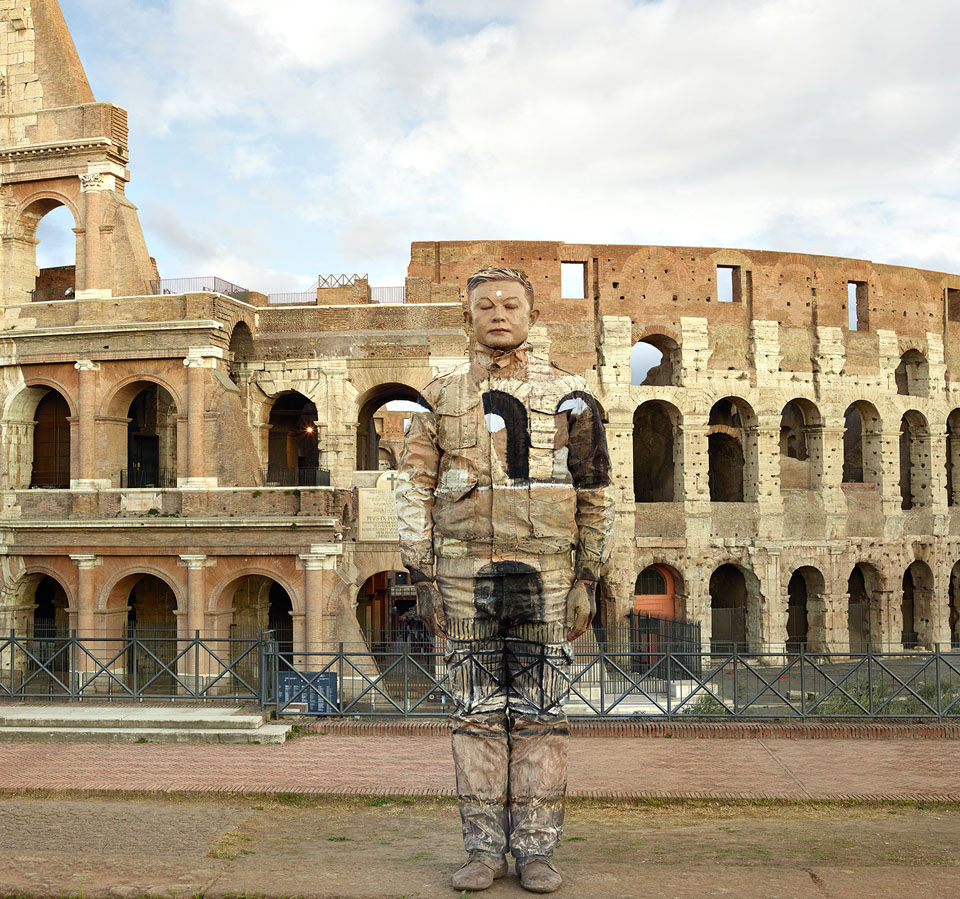 LIU BOLIN




The Invisible Man
ROMA, COMPLESSO DEL VITTORIANO – ALA BRASINI



2 March – 1 July 2018

The first major exhibition in Italy devoted to Liu Bolin, the Chinese artist who has been described as "the invisible man" on account of his remarkable camouflage art performances.
The career of this internationally acclaimed artist will be celebrated through a grand retrospective at the Vittoriano featuring over 70 works.

The year is 2005: the Beijing authorities order the demolition of Suojia Village, a neighbourhood housing many artists critical of the government. Liu Bolin, who was born in 1973 and is just making his début as an artist, camouflages himself within the ruins of his studio and has himself photographed. The circulation of these photos gives rise to a silent and "transparent" protest that achieves an unexpected degree of popularity.
Thus begins the remarkable career of one of the most talented and interesting contemporary artists, capable of concealing powerful social messages in apparently simple images, creating a synthesis of different artistic languages such as painting, installations, and photography.
Liu Bolin's performances are designed to deliver a clear and compelling message concerning present events, at the crossroads between the weight of history and the consequences of progress.
With time, Liu Bolin has himself photographed alongside the world's most important monuments, libraries, supermarket shelves, artworks, rubbish heaps, and immigrants. His fame grows until his images become an icon for major brands, starting from Moncler, which for several seasons uses one of Liu Bolin's camouflages for advertising purposes – not to forget Tod's, Ferrari, and many other companies.

The exhibition at the Vittoriano tells Liu Bolin's story, from his first performance in Beijing to his 2017 photographs at the Royal Palace of Caserta and the Coliseum, which were especially taken for the exhibition in Rome and are here displayed in a world première.

Held under the patronage of the Regional Government of Lazio, the Office for the Promotion of Culture of the Municipality of Rome and Fondazione Italia Cina, the exhibition is produced and organized by Gruppo Arthemisia in collaboration with Galleria Boxart, and is curated by Raffaele Gavarro.

The exhibition is supported by Generali Italia as part of Valore Cultura, the programme through which this company is promoting outstanding artistic and cultural events with the aim of making them more accessible to the public at large while also promoting Italy. Generali Italia shares Arthemisia's eagerness to offer new opportunities in terms of accessibility and participation. The events planned by Generali Italia to introduce a broader and varied public to notable examples of art includes a day of free visits for all private citizens on 11 April.
Technical sponsor: Trenitalia.
The event is recommended by Sky Arte HD.
The catalogue is published by Arthemisia Books.
Tickets
Ordinary tickets € 12.00
Concessions € 10.00

Information and booking
T. +39 96 8715111
Opening hours
Monday-Thursday 9.30 am – 7.30 pm
Friday and Saturday 9.30 am – 19.00 pm
Sunday 9.30 am – 8.30 pm
(the ticket office closes an hour before)