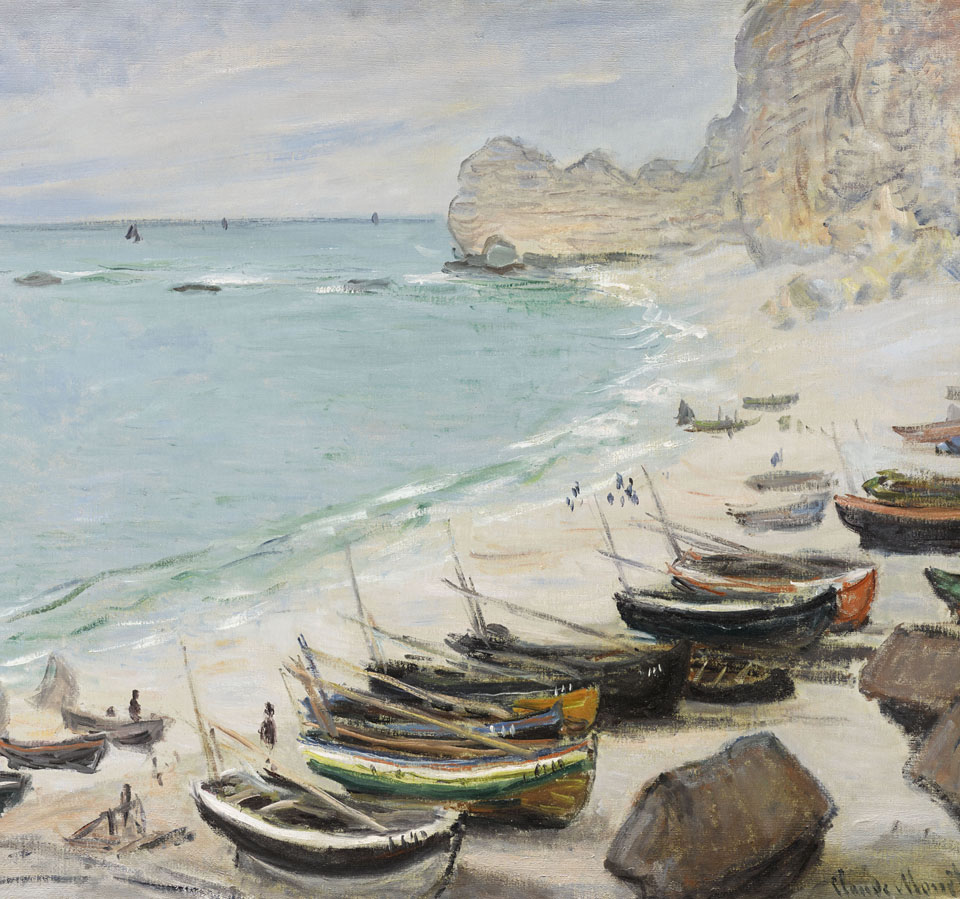 Monet e gli impressionisti in Normandia
ASTI, PALAZZO MAZZETTI



13 September 2019 – 16 February 2020
With 46,908 visitors, the exhibition Chagall. Color and Magic, which ended on 3 February, proved a resounding success. Now from 13 September, through a project co-organized with Vittorio Sgarbi, Palazzo Mazzetti in Asti will be housing an outstanding collection of 75 works illustrating the Impressionist movement and its close links to Normandy.
On display against the backdrop of this region will be painters such as Monet, Renoir, Delacroix and Courbet, who have captured the immediacy and liveliness of the landscape by recording the changing skies, sparkling waters and verdant valleys of Normandy, the cradle of Impressionism.

Thanks to the Fondazione Asti Musei, the exhibition 'Monet and the Impressionists in Normandy. Masterpieces from the Peindre en Normandie Collection', curated by Alain Tapié, retraces the key stages of this artistic current. Works such as The Sea from the Heights of Dieppe (1834) by Delacroix, The Beach at Trouville (1865) by Courbet, Camille on the Beach (1870) and Boats on the Beach at Étretat (1883) by Monet, and Sunset, View of Guernesey (1893) by Renoir – masterpieces featured in the exhibition – illustrate the exchanges, mutual engagement and collaboration between some of the greatest painters of this epoch. With its dazzling nature, vibrant colours and sparkling vistas, Normandy was turned into a symbol of the joy of painting.

The exhibition revolves around the Peindre en Normandie Collection, one of the most representative collections for the Impressionist period. It also includes works from the Musée Alphonse-Georges-Poulain of Vernon, the Musée Marmottan Monet of Paris, and the Bemberg Foundation of Toulouse.

When British watercolourists such as Turner and Parkes crossed the Channel to devote themselves to landscape painting, they transmitted their capacity to convey the vitality of nature to French artists. The works by these British painters express the light and rich forms of Normandy, providing an enhanced sensory and visual experience. Places like Dieppe, the Seine estuary, Le Havre, the beach at Trouville, the coastline between Honfleur and Deauville, and the harbour of Fécamp – portrayed in the works on display in Palazzo Mazzetti – became an avenue for compelling artistic expression. These microcosms of wind, sea and mist possess an intense and expressive physical personality, which the French painters captured by painting en plein air, giving rise to the Impressionist movement.

The exhibition is produced by Fondazione Asti Musei, Fondazione Cassa di Risparmio di Asti, the Regional Government of Piedmont, and the Municipality of Asti, in collaboration with Ponte – Organisation für kulturelles management GMBH. It is organized by Arthemisia, in collaboration with Gruppo Cassa di Risparmio di Asti, and with the contribution of Fondazione Cassa di Risparmio di Torino.
Venue
Palazzo Mazzetti
Corso Vittorio Alfieri, 357
14100 – Asti
Opening hours
Tuesday – Sunday 10 am – 7 pm
(the ticket office closes an hour before)
Closed on Mondays
Info and booking
www.fondazioneastimusei.it
www.astimonet.it
segreteria@fondazioneastimusei.it
info@fondazioneastimusei.it
T. +39 0141 530403